Everyone has a different data privacy style. Where do you land on the information security scale? Are you an open book, somewhere in between or a locked vault? This Data Privacy Day take a look at your privacy, permission and location settings and make sure they reflect your expectations.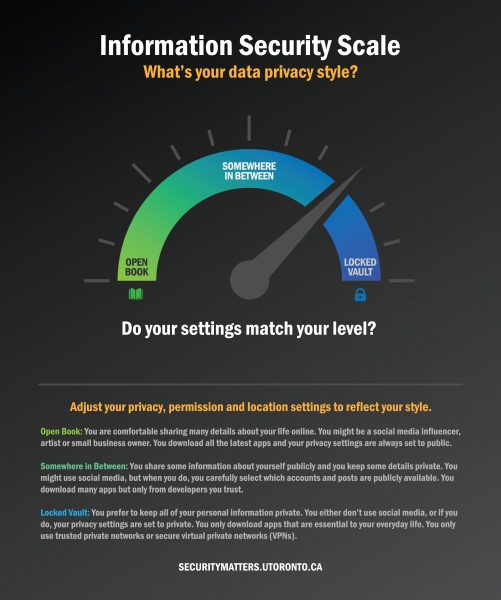 To learn more about keeping your data private, attend our Data Privacy Day pop-up booth on Monday Jan. 28. The booth will be held at the Bahen Centre from 10:30 a.m. to 4:30 p.m where you can:
Join us for an exciting meet and greet with Chief Information Security Officer, Isaac Straley (Bahen Centre from 11 a.m. to 12:30 p.m.)
Introduce yourself to Director, Information and Protection of Privacy Office, Rafael Eskenazi (Bahen Centre from 2:30 p.m. to 3:30 p.m.)
Spin our anti-phishing wheel to win free swag
Take on our U of T Data Privacy Day Challenge
Meet members of the Information Security and Education and Awareness teams
We look forward to seeing you there!